A healthy future full of hope and security for all.
[ About the four main businesses of the I'rom Group ]
Based on the brand promise, "For a future full of joy." the I'rom Group is promoting
four businesses: Advanced Medical, SMO, CRO, and Medical Support, to ensure that
people's future is full of hope, security, and health.

SERVICE & PRODUCTS
[ Services and Products ]
The I'rom Group contributes to the process of bringing new pharmaceutical
and medical technologies to the world through its four businesses.
[ Advanced Medical Business ]

We are engaged in research and development of pharmaceuticals and medical technologies using vector technology, the cell banking
business, and R&D and contract manufacturing of new products that apply advanced medical technology to cosmetics, etc.

[ SMO Business ]

We provide clinical trial support for medical institutions as a site support organization.

[ CRO Business ]

We provide substitution and support for the work of pharmaceutical companies and academia involved in clinical research, including
clinical trials of pharmaceuticals, medical devices, regenerative medicine, and other products.

[ Medical Support Business ]

We have opened and operate a clinic mall and other facilities.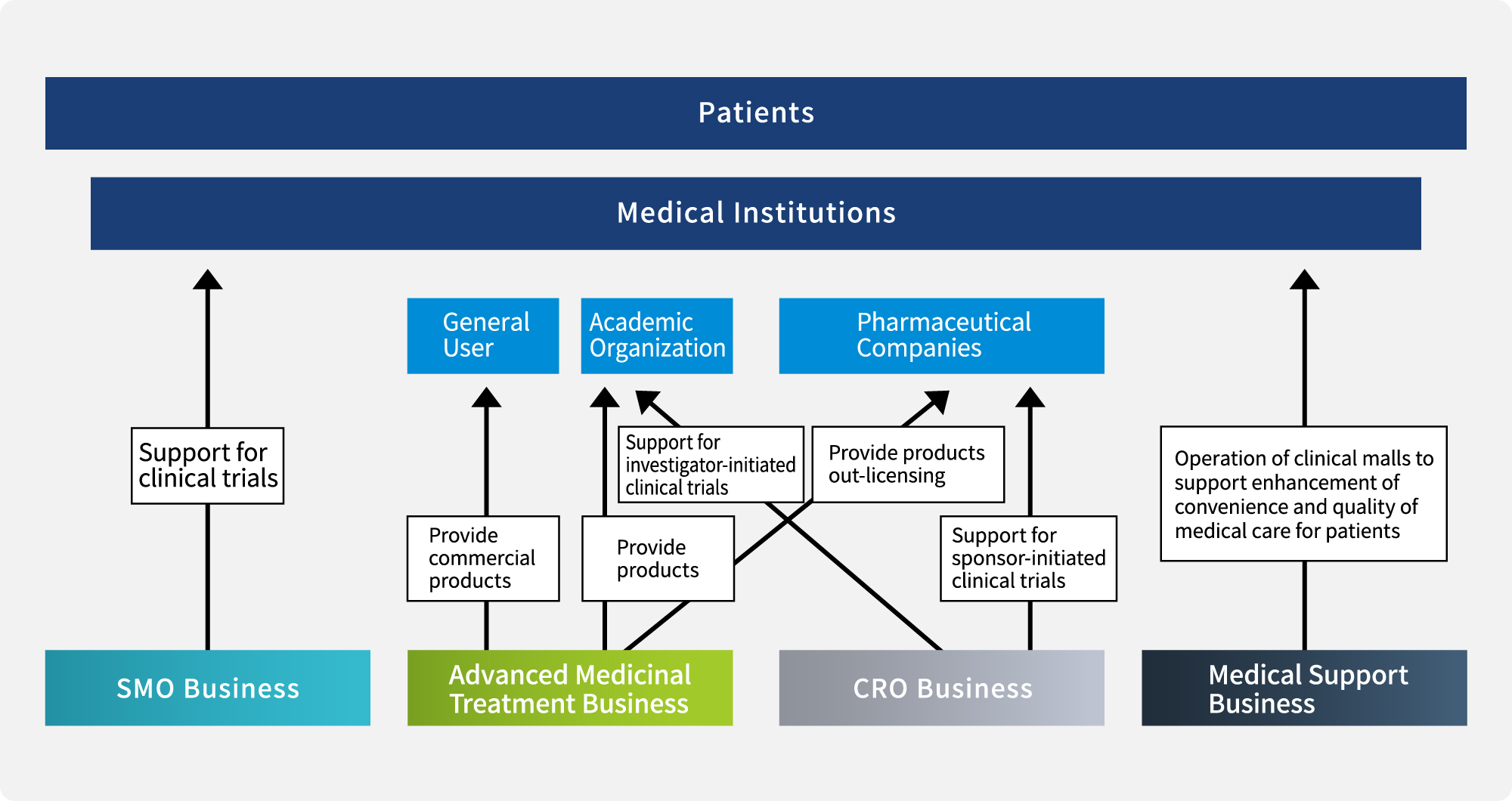 [ Our roles in the drug development ]
Even in modern medicine, there are diseases for which no treatments have been discovered.One theory says that mankind has come up ways to treat only a quarter of all illnesses. We must urgently discover ways to understand and treat the remaining three quarters so that people can live in health. The I'rom Group is striving to support the development and manufacture that is vital to the delivery of pharmaceuticals to patients, and is using this platform with the goal of creating its own products to take the fight to this sizeable three quarters of existing diseases.